Brian J. Malkin
Counsel
Brian has more than 27 years of food and drug law experience and over 14 years of intellectual property law practice.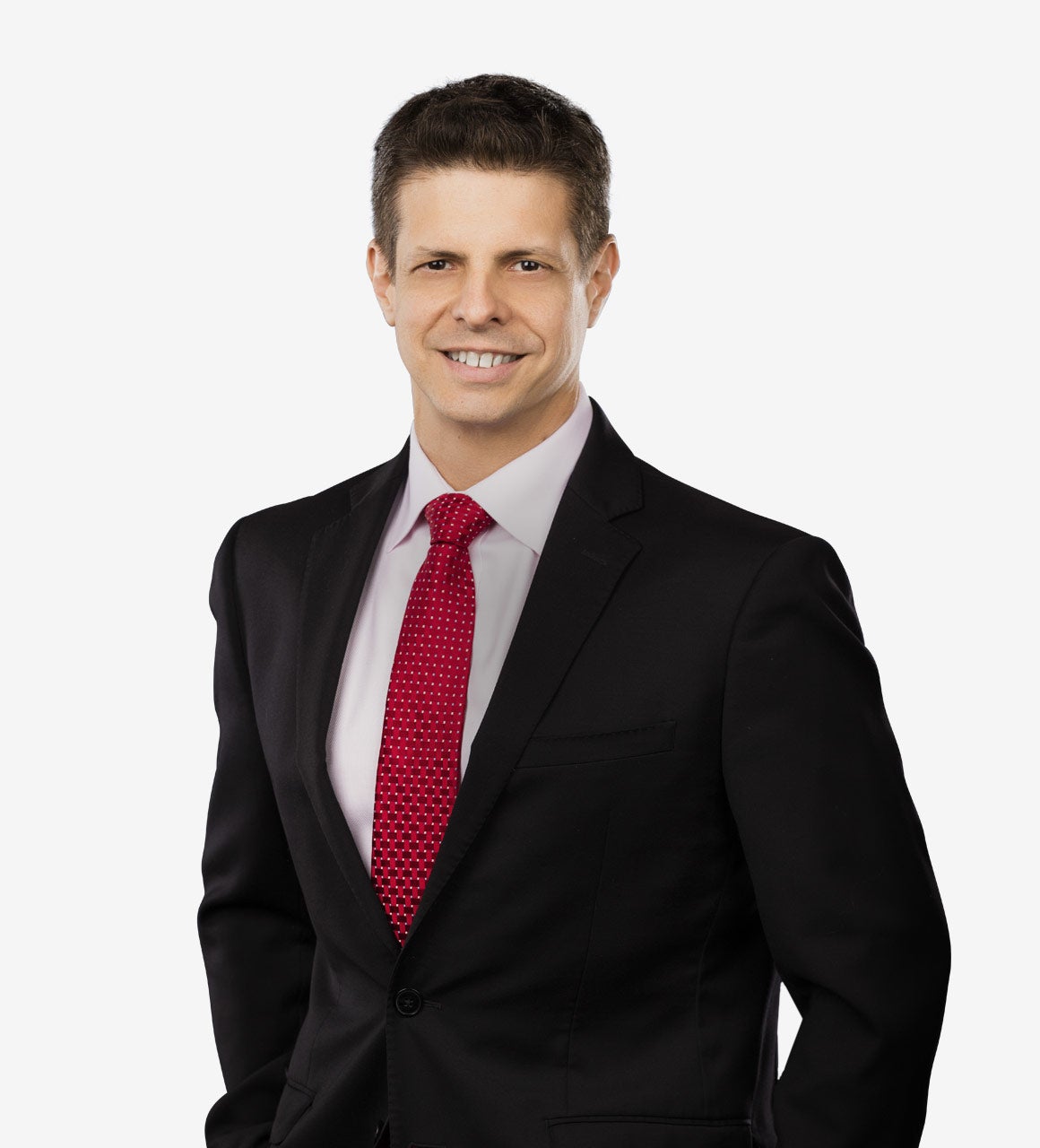 In particular, Brian's practice includes the interrelation between patent law and food and drug law. Brian's regulatory experience includes all types of FDA-regulated products: drugs and biologics (including animal drugs and biologics), medical devices, foods and dietary supplements, cosmetics, tobacco products, and cannabis. Brian's intellectual property experience includes patent and FDA litigation for both innovator and generic companies, as well as patent prosecution and opinion analyses for life science companies. Brian's breadth of experience further makes him ideally suited for regulatory and patent diligence.
Awards & Recognitions
Client Work
Representative Regulatory Work
Drugs/Biologics: Premarket
Worked with innovator drug companies to develop strategies for approval of new drug applications (NDAs), including those filed as 505(b)(2) NDAs and biologics license applications (BLAs) (including biosimilar products filed as 351(k) applications). The approval strategies included developing clinical strategies, pre-investigational new drug applications (INDs) and pre-NDA/pre-BLA FDA meetings.

Drafted and filed orphan drug designations and held meetings with FDA to demonstrate clinical superiority where necessary to obtain orphan drug exclusivity for "same drug" situations.

Analyzed, recommended, and prosecuted patents to build patent portfolios, including patents for listing in FDA

'

s list of approved NDAs (Approved Drug Products with Therapeutic Equivalence Evaluations, also known as "the Orange Book").
Worked with innovator companies to develop risk management programs, including risk evaluation and mitigation strategies (REMS), some with elements to assure safe use (ETASU), to help mitigate risks. Worked with innovator drug companies to bring over-the-counter (OTC) drugs to market, such as OTC drugs based on FDA monographs or prescription-to-OTC NDA, which includes developing clinical plans for demonstrating the ability of the general public to effectively diagnose and treat their conditions with OTC drug products.
Worked with generic drug companies to conduct a pre-litigation analysis of the Orange Book-listed patents and expected approval requirements to develop a regulatory strategy for approval, including noninfringement strategies and patent invalidity or unenforceability arguments.
Represented generic drug companies in pre-IND or pre-abbreviated new drug application (ANDA) FDA meetings and drafted controlled correspondence or meeting request packages requesting clarification of the anticipated approval requirements, which included developing bioequivalence recommendations.
Worked with generic drug companies to obtain samples for products under ETASU REMS and develop shared or separate REMS programs with the same essential elements.
Developed ANDA litigation strategies for innovator and generic drug companies, including identifying patents to assert in infringement or declaratory judgments.
Drafted patent notice letters for ANDA applicants with patent challenges to Orange Book-listed patents.
Drafted suitability petitions for ANDA applicants to file ANDAs with statutory deviations from the referenced listed drug product.
Worked with biosimilar (also known as follow-on biologics) applicants to develop clinical trial strategies for approval, which included considering biosimilar approvals in other countries, such as possible 505(b)(2) NDA approval strategies for certain products.
Medical Devices: Premarket
Assisted companies to register their medical device establishments and other licenses with FDA.
Worked with medical device companies to determine the appropriate classification for their proposed devices, including assisting with their 510(k) clearances and premarket approval applications (PMAs).
Worked with companies with laboratory developed tests (LDTs) to identify appropriate regulatory mechanisms to consider for continued product marketing and use in view of FDA's proposed regulatory program.
Worked with medical device companies to develop clinical trial programs for 510(k) clearances and PMAs, including investigational device exemptions (IDEs).
Worked with companies to develop strategies for approval of combination drug/device and combination drug products, including clinical programs, for example, an artificial pancreas incorporating marketed glucose monitors and insulin pumps and smartphone applications and algorithms, in view of FDA's mobile medical application and information technology guidance.
Helped companies evaluate FDA's mobile medical application and "general wellness" guidance for classification of their devices, which incorporated smartphone application connectivity and monitoring.
Worked with companies to develop appropriate medical device labeling, including for reuse or repackaged products.
Drugs/Biologics/Medical Devices: Regulatory Review
Worked with innovator companies to address clinical holds placed on their INDs or IDEs and overcome otherwise stalled product development plans.
Worked with innovator companies to develop proprietary names, including addressing concerns by FDA's Division of Medication Error Prevention and Analysis (DMEPA).
Worked with innovator companies to help them understand and participate in the advisory committee process and other public meetings for new product development and other issues, including using information from advisory committee meetings to assist in regulatory approval or lifecycle management strategies.
Worked with innovator companies to develop drug labeling that included claims in patents, risk management strategies, or other critical safety or effectiveness elements for marketing and approval.
Reviewed drug labels for possible carve-out strategies by generic drug companies to develop noninfringement strategies or obtain approval prior to the expiration of certain patents or exclusivities.
Reviewed drug labels for possible noninfringement, invalidity, or unenforceability defenses in patent litigations by generic drug companies.
Worked with innovator and generic companies to address and evaluate FDA's filing, complete response, and other regulatory correspondence/compliance letters.
Foods, Dietary Supplements
Reviewed food additives and dietary ingredients for preapproval or generally-recognized-as-safe (GRAS) status, or as new dietary ingredients.
Reviewed food and dietary supplement labeling for compliance with FDA regulations and requirements, including Dietary Supplement Health and Education Act (DSHEA) requirements.
Reviewed food and dietary ingredient structure/function-type claims, including recommending or developing clinical trials for adding new claims.
Cosmetics
Reviewed formulations (ingredients) for FDA compliance and proposed labeling for new cosmetic products, including making recommended labeling changes to avoid regulatory actions such as potential-drug-versus-cosmetic claims.
Tobacco Products
Reviewed tobacco product portfolios for tobacco product companies and made recommendations for compliance with the Family Smoking Prevention and Tobacco Control Act, including addressing import/export issues.
Filed domestic establishment, domestic and international product listings, and health document submissions for tobacco product companies.
Reviewed proposed new tobacco products to determine whether they qualified as substantially equivalent or as new or modified-risk products.
Assisted companies with addressing FDA's new "deeming regulations", which added new categories of products to FDA's regulated tobacco products.
Drugs/Biologics/Medical Devices/Foods/Dietary Supplements/Cosmetics: Marketing, Enforcement, and Lifecycle Management
Reviewed advertising and promotion material for marketed products, including reviews by the Division of Prescription Drug Promotion (OPDP) to address agency concerns or raise arguments for innovator or generic companies in ANDA litigations with regard to the listing or assertion of method-of-use patents.
Worked with companies to address development and conduct of post market studies, including product recalls, discontinuations, or withdrawals.
Worked with companies to promote alignment with good clinical practices (GCPs) and manufacturing practices (GMPs) and address potential clinical hold or recall situations.
Worked with companies to address observations and recommendations made in FDA inspections, including developing corrective action plans and audits
Worked with companies to address FDA untitled or warning letters including drafting responses and discussing resolution agreements with FDA officials.
Worked with companies to develop strategies for FDA administrative proceedings, including filing or responding to citizen petitions and challenging FDA review division decisions prior to filing legal actions against the FDA.
Represented companies in lawsuits against FDA for arbitrary and capricious actions, including evaluating whether to bring such actions.
Worked with innovator companies to file patent term restoration applications with the US Patent and Trademark Office and to consider other possible patent-term adjustments or extensions.
Worked with companies to license their patent technologies and new product applications and develop product development partnerships.
Conducted due diligence investigations for patents, regulatory approvals and licensing agreements for companies seeking to acquire new products or companies, including research and development agreements that were part of settlement agreements. Most of these investigations resulted in formal due diligence reports and recommendations.
Developed regulatory and patent portfolio strategies and presentations for sales of products or companies to potential buyers and their counsel following audit of regulatory and intellectual property due diligence documents.
Provided regulatory litigation support for patent infringement litigations, including reviewing status of product approvals and regulatory requirements (including guidance documents), developing expert reports and litigation documents for stays and other actions, and otherwise integrating the patent litigation and regulatory strategies.
Representative Litigations
Represented Exela Pharmsci Pvt. Ltd. in a lower-court ANDA litigation concerning alleged infringement for filing an ANDA for a generic form of Alphagan® P (brimonidine tartrate) (Allergan Inc. v. Exela Phamsci Inc., In Re Brimonidine, MDL No. 1866, (D.Del 07-516)). Exela prevailed on appeal to the Federal Circuit.
Represented Ranbaxy Laboratories and Ranbaxy Inc. in Medicis Pharmaceutical Corp. v. Ranbaxy Inc. et al. (D.Del. No. 09-435). Medicis settled with Ranbaxy and provided various licensing agreements.
Represented Paddock Laboratories, Inc., for filing an ANDA for a generic form of Loprox® gel (ciclopirox) in Medicis Pharm. Corp. and Sanofi-Aventis Deutschland GmbH v. Paddock Laboratories, Inc. (D.MN. 06-2588). Medicis and Sanofi settled with Paddock prior to discovery based on the pleadings.
Represented Lupin Ltd. and Lupin Pharm., Inc., for filing an ANDA for a generic form of Lotrel® (amlodipine besylate/benazepril hydrochloride) in Novartis Corp. v. Lupin Ltd. and Lupin Pharm., Inc. (D.N.J. 06-5954).
Represented Lupin in Teva v. Lupin (D.N.J. 07-02896). Teva sued Lupin for its manufacture of carvedilol active ingredient used in its filed ANDA for a generic version of Coreg® (carvedilol).
Represented a global pharmaceutical company in a patent litigation in the District Court of Delaware regarding an injectable drug product. Client obtained a favorable settlement.
Representative Patents
Advised Exela Pharmsci Inc. regarding methods to distribute substitute medical therapies for medical therapies with restricted distribution (US Patent No. 7,885,827: Method and System for Delivering Substitute Medical Therapies with Restricted Access).
Advised Par Pharmaceutical Inc. regarding a method to sort data for complex compositions, including biologics without the need for a reference standard (US Patent No. 7,246,020: System and Method for Sorting Data).out the need for a reference standard (US Patent No. 7,246,020: System and Method for Sorting Data).
Previous Work
Immediately prior to law school, Brian worked as a legislative correspondent in the US Senate Committee on Labor and Human Resources. He began his legal career as a regulatory counsel at the US Food and Drug Administration, where he worked for more than nine years in both the Office of the Commissioner and the Center for Drug Evaluation and Research. At FDA, he focused on new product evaluations, compliance issues related to clinical investigations and intellectual property (e.g., patent term restoration). Brian's work resulted in new product approvals as well as new industry guidance documents and policies, such as the animal efficacy rule for counter-terrorism products. Following several years of practice in an FDA law firm, Brian returned to university to obtain a Bachelor of Science degree in biochemistry. Since then, Brian has had a hybrid practice, focusing on FDA and intellectual property law, in a law firm environment with a business focus for life science companies.
Professional Activities
Brian has been actively involved in promoting the biotechnology community locally, nationally, and internationally. Locally, Brian is working with BioBuzz to help stimulate a more active bioscience workforce and a more dynamic bioscience industry throughout Maryland, Virginia, the District of Columbia, and beyond. Brian has worked with the Montgomery County Department of Economic Development to present a program on "Innovative Strategies for New Product Development," and has been involved in the Biomanufacturing Technology Summit (biosimilars) sponsored by the Institute for Bioscience and Biotechnology Research (IBBR) at the University of Maryland.
In addition, Brian has served on a board of judges for local entrepreneur contests at the University of Maryland's Mtech Biotechnology Research and Education Program and had been featured as a guest lecturer: "Entrepreneurship for Life Sciences Lessons in Start-Ups for Life Sciences Innovation." He also currently mentors several health law students through a program coordinated by the Maryland State Bar Association's health law group. Nationally and internationally, Brian has worked with life science companies to promote new and innovative technologies, including emerging growth companies.
Brian is an Adjunct Professor at Yeshiva Katz's premier Biotechnology Management and Entrepreneurship Masters Program where he co-teaches a business-focused, one-semester course titled "Intellectual Property, Regulation and Compliance for Biotechnology." He has also taught several guest lectures at Georgetown Law Center for its LLM programs for the course "Global Drug Law and Regulations" and "Health Law and Regulation." Brian has also taught at the American University Washington College of Law's Health Law and Policy Summer Institute on "Generic Drugs, Biosimilars, and the Intersection of Intellectual Property and the Drug Approval."
In addition to his commitment to the life science community, Brian has also been elected to a variety of premier editorial board and bar association leadership roles. Some of these include:
Co-Chair, DC Bar's Intellectual Property Law Community steering committee (2019-current)

Member, Advisory Board of Global Bioethics Initiative
Co-Chair, NYSBA Committee on Cannabis Law (2017-current)
Former Chair, Food, Drug and Cosmetic Law Section of the New York State Bar Association (2014-2020)
Advisory Board Member, Rare Disease Report
Editorial Board Member, FDAnews
Member, New York State Bar Association

'

s Committee on Legislative Policy
Member, New York State Bar Association

'

s Non-Resident Committee
Member, New York State Bar Association

'

s Committee on Continuing Legal Education
Member, New York State Bar Association

'

s Committee on State Legislative Policy
Member, New York State Bar Association

'

s Committee on Federal Legislative Priorities
Publications, Presentations & Recognitions
Given his particular experiences, Brian frequently is asked to speak and write on numerous FDA- and intellectual-property-law issues, including clinical trials and new product development for complex and challenging products, such as biotechnology products, orphan drugs, generic drugs, 505(b)(2) new drug applications, patent-term restoration under the Hatch-Waxman Act, biosimilar products, tobacco products, patent-term adjustment, risk management, and due diligence.
Brian has presented a variety of programs for a Korea-Maryland USA Bio Expo in Rockville, Maryland, on the following topics: (1) current good manufacturing practice (cGMP) and its role in regulatory drug quality, (2) current drug shortages and orphan drug disease pharmaceutical development, (3) innovative strategies for new drug development/biobetters; and (4) dietary supplements and functional foods. Brian's publications include:
"Companies Marketing CBD Products Be Warned: FDA Is Watching,"  Law360, December 5, 2017
"New FDA Rules Put Onus On Doctors To Curb Opioid Abuse," Law360, March 28, 2016
"Biosimilars patent litigation in the EU and the US: a comparative strategic overview," Generics and Biosimilars Initiative (GaBI) Journal, Volume 4, Issue 3, 2015
"Food, Drug, Cosmetic Section Profile: Section helps food and drug law attorneys explore FDA guidance, legislation with a New York " State Bar News, New York State Bar Association, November/December 2015
"Biosimilars patent litigation in the EU and the US: a comparative strategic overview," GaBI Journal, August 19, 2015
"The FDA's Ever-Broadening Regulatory Oversight Creates Need for Increased (and More) User Fees: How Will This Affect Enforcement, the Increasing Need for Sponsor Self-Regulation, and the FDA's Regulatory Priorities?" Recent Developments in Food and Drug Law (2015 Edition), Aspatore/Thompson Reuters, December 2014
"Will the FDA Provide More Guidance or Manage the Process to Share Risk Evaluation and Mitigation Strategies (REMS)?," Financier Worldwide, October 2013
Free Speech and Off-Label Drug Promotion: Should Recent Cases Change Your Business Practices?: Navigating Recent Off-Label Promotion Developments, Understanding Government Relations and the Potential Impact of Noteworthy Cases, (Aspatore Special Report), Aspatore/Thompson Reuters, September 1, 2013
Co-author, The Drug/Biologics Approval Process: An FDLI Primer, Food and Drug Law Institute Update Magazine, January 2013
"Challenges to the Development of a Biosimilars Industry in the United States," Aspatore/Thompson Reuters Recent Developments in Food and Drug Law (2013 Edition), December 3, 2012
Co-author, "Should FDA Understake More Than a

'

Ministerial

'

Role with Respect to Patent Information?," Food and Drug Law Institute Policy Forum, February 23, 2011
Co-author, "Disentangling Biobetters under the Biologics Price Competition and Innovation Act of 2009," Food and Drug Law Institute Update Magazine, February 1, 2011
Co-author, "Biosimilars Are a Reality: Key Feautres of the Biologics Price Competition and Innovation Act," Food and Drug Law Institute Update Magazine, June 1, 2010
"The Letter of the Law: How FDA Regulation Will Impact Your Business," Tobacco Reporter, August 1, 2009
Brian received recognition in the Washington, DC Top Attorneys for Food and Drugs in the Washington Post in 2014. He was also selected to the Washington, DC Super Lawyers list in 2014.
Brian's speaking engagements include:
Moderator, "

The Possibility of Virtual FDA Inspections: What You Need to Know to Be Prepared

" Webinar, Arent Fox LLP; June 26, 2020 (online)
Guest Lecturer, "Generic Drugs, Biosimilars, and the Intersection of Intellectual Property and the Drug Approval," American University Washington College of Law; May 30, 2020 (online)

Moderator,

"

FDA Law for IP Lawyers

–

Tips for Effectively Integrating FDA Regulatory Law Into an IP Law Practice

" Webinar, DC Bar Intellectual Property Law Community; April 29, 2020 (online)
Speaker, Intellectual Property Issues Impacting High Schoolers, DC Bar Communities Melvin R. Wright Youth Law Fair; March 31, 2020 (online)
Speaker, "Legal Perspective: Regulatory Landscape & Use of CBD in Food Products," Q1 Productions Food Labeling: Evolving Regulatory Compliance Conference; February 11-12, 2020 (Alexandria, VA)
Panelist, "Part II: What is FDA

's Role in the Regulation of Cannabis?,

" FDLI Legal and Practical Issues in the Evolving World of Cannabis Regulation; November 18-19, 2019 (Washington, DC)
Keynote Speaker, "New Challenges of In Vitro Diagnostics," Michigan Institute for Clinical & Health Research Medical Devices in Academic Research Symposium; October 16, 2019 (Ann Arbor, MI)
Speaker, "Regulatory Compliance During Study Conduct," AdvaMed Investigational Device Exemption Submissions Workshop; October 9, 2019 (Washington, DC)
Panelist, "Drug Pharmacovigilance Under CDER," FDAnews Post-Market Surveillance Conference; June 28, 2019 (Washington, DC)
Speaker, "FDA and DEA Regulation of Opioid Drugs and the Opioid Drug Crisis" CLE Course, DC Bar; June 19, 2019 (Washington, DC)
Speaker, "Hot Topics in Cannabis Law: CBD Rulemaking," New York State Bar Association; May 6, 2019 (New York, NY)
Speaker, "Top Ten Intellectual Property and Regulatory Issues for Biotechnology Startups" Webinar, Yeshiva University

's Katz School of Science and Health; May 6, 2019 (online)

Moderator, "Orphan Drug and Rare Disease Developments," FDLI Annual Conference: Exploring Advanced Topics in Food and Drug Law; May 3, 2019 (Washington, DC)
Speaker, "Regulatory developments in orphan drugs," Venture Caf

é

Cambridge BIO Connect; April 25, 2019 (Cambridge, MA)
Speaker, "Violations, Enforcement and International Issues," FDLI Introduction to Biologics and Biosimilars Law and Regulation; April 3, 2019 (Washington, DC)
Guest Lecturer, "Global Drug Law & Regulation," Georgetown Law School, March 22, 2019 (Washington, DC)
Moderator, "Concerns Establishing Single Shared ETASU REMS, Waivers and Generic Blocking," ExlEvents 11th Risk Evaluation and Mitigation Strategies Summit; January 28, 2019 (Arlington, VA)
Speaker, "The Biosimilar Action Plan – Clarify FDA

'

s Guidance," CBI

'

s 14th Annual Biosimilars Summit; January 22, 2019 (Alexandria, VA)
Speaker, "Hot Topics in FDA Law," New York State Bar Association; January 17, 2019 (New York, NY)
Speaker, "Hot Topics in Cannabis Law 2019: What Lawyers Need to Know," New York State Bar Association; January 15, 2019 (New York, NY)
Speaker, "Practical Implications of Decriminalized Marijuana for the Legal Practitioner," New York State Bar Association; October 3, 2018 (New York, NY)
Speaker, "Balancing Unity and Individuality: Leadership Skills for Managing Culturally Divergent Clinical Teams," DIA 2018 Global Annual Meeting; June 25, 2018 (Boston, MA)
Speaker, "Cannabis Law Update," Summer 2018 Bridging the Gap NYC, New York State Bar Association, August 16, 2018 (New York, NY)
Speaker, "Launch an Expanded Access Program That Effectively Supports Patient Needs and Compliantly Enhances Drug Development," World Congress Life Sciences Market Access & Oncology Summit; February 5, 2018 (Philadelphia, PA)
Moderator, "Embracing the Continuum of Risk: CTP Builds Policy on Product Standards and Tobacco Flavoring, and Reassesses Regulatory Priorities in Aftermath of the Deeming Rule," NYSBA Food, Drug & Cosmetic Law Section Meeting; January 25, 2018 (New York, NY) 
Guest Lecturer, "Health Law and Regulation –LAWG-2076-09, LAWJ-2076-09 Fall," Georgetown Law School, October 6, 2017 (Washington, DC)
Speaker, "Violations, Enforcement, and International Issues," FDLI Introduction to U.S. Biologics and Biosimilars Law and Regulation, October 5, 2017
Panelist, US Roundtable Discussion and "Explore How the New Trump Administration Affects the Future of Pre-Approval", IQPC Pre-Approval Access Programs, September 26, 2017
Speaker, "Quality Systems Regulation," ACI Fifth Annual FDA Boot Camp: Devices Edition, July 28,2017
Moderator, "The Animal Drug Compounding Debate," FDLI Annual Conference, May 4, 2017
Speaker, "Wearable Health Trackers, FDA's 'General Wellness' Classification, and Patent Protection, Oh My!" ACI Advanced Summit on Medical Device Patents, March 1, 2017
Host/Moderator, "Reciprocity Issues for New York-Admitted Lawyers," NYSBA Holiday Networking Event, December 14, 2016
Moderator, "Executive Roundtable

–

Life Sciences Industry Update" and "Business and Legal Issues for Early Stage Companies," 8th Annual Pharmaceutical and Medical Device Conference, November 10, 2016
Moderator, "Deconstructing the New Guidance on Expanded Access and Update on Legal Developments," Expanded Access: FDA's New Regulatory Process How Compassionate Use Fits into Proposed Reforms, October 13, 2016
Speaker, "Animal Biologic Development: The Continuing Debate Between Cure and Cost" and "Revisiting the Animal Drug Compounding Debate," ACI's 2nd Annual Legal, Regulatory, and Compliance Forum on Animal Health: Veterinary Drugs, Therapeutics, and Animal Food, September 13-15, 2016
Speaker, "Develop Strategies to Successfully Implement the New Guidance Determine Potential Compliance Obstacles and Financial Penalties to Avoid Unanticipated Delays," The Pharmacovigilance Finale Rule Summit on IND Safety Reporting, August 16-17, 2016
Speaker, "High-Risk Devices-Parsing the Premarket Approval Process (PMA)" and "Quality System Regulation," ACI's 4th Annual FDA Boot Camp, July 20-22, 2016
Speaker, "Amarin," 2016 FDLI Annual Conference, May 5, 2016
Speaker, 2016 Danish Biotech Conference, April 12-13, 2016
Speaker, "The Impact of the Evolving US Biosimilar Regulatory Policies on Bringing Biosimilars to Market," CBI 11th Summit on Biosimilars, January 29, 2016
Moderator, "FDA Update - Recent Developments and New Initiatives Including a MDUFA Update" and "Off-Label Promotion in the Wake of the Amarin Decision," 7th Annual Medical Device and Life Sciences Conference, November 19, 2015
Moderator, "Amarin and the Future of Off-Label Promotion," FDLI, November 16, 2015
Panelist, "Foreign Corrupt Practices Act and Corporate Accountability," Pennsylvania Bar Institute 21st Annual Meeting, November 4, 2015
Speaker, "Developments in Global Intellectual Property," International Generic Pharmaceutical Alliance (IGPA) 18th Annual Conference, September 17, 2015
Panelist, "Drug Compounding in the Animal Drug Industry: Assessing Fair and Foul Practices," ACI Legal, Regulatory, and Compliance Forum on Animal Health, Veterinary Medicines and Therapeutics, September 10, 2015
Speaker, "Develop Strategies to Continue Building Successful Benefit-Risk Assessments," CBI Benefit-Risk Assessment & Decision Making Summit, August 8, 2015
Speaker, "Protecting Both Innovation and Competition: Finding Compromise Within Federal and State Biosimilars Substitution Laws," ACI's 6th Annual Summit on Biosimilars, June 2, 2015
Panelist, "Breakout Session: Center for Drug Evaluation and Research (CDER)," FDLI Annual Conference, April 20, 2015
Panelist, "Biosimilars Patent Litigation," European Generic Medicines Association (EGMA) 11th Legal Affairs Forum, March 27, 2015
Panelist, "FDA, LDT and IVD: The ABC's of Clinical Lab Test Development," New York State Bar Association Food, Drug and Cosmetic Law Section Annual Meeting, January 29, 2015
Panelist, "Analyze the FDA's Newly Released REMS Standardization Report" and "Highlight Key Consideration to Collaborate Successfully in a Single Shared REMS," ExL Pharma 7th Risk Evaluation and Mitigation Strategies Summit, January 22, 2015
Speaker, "Insights into Developing the Best Regulatory Pathway for Your Venture and Methods of Designing an Efficient and Productive Clinical Trial," Climbing the Regulatory Summit, December 10, 2014
Speaker, "FDA Update: Recent Developments and New Initiatives," 6th Annual Medical Device and Life Sciences Conference, November 18, 2014
Co-Speaker, "Regulations - The Good, the Bad, and the Ugly," Food Safety Challenges in an Era of Change: How to Better Protect Your Food and Beverage Company, Your Customers, and Yourself, October 9, 2014
Moderator, "Issues Concerning Development of Rare Disease and Special Population Medical Devices," AdvaMed 2014 The MedTech Conference, October 7, 2014
Panelist, "The Case for Small Markets with Large Returns: Orphans/Rare Disease Panel," Life Science Nation: Redefining Early Stage Investments, September 17, 2014
Panelist, "Pre-Conference Primer: Biosimilars 101: Comprehensive Deep Dive into the Relevant Legal, Regulatory, and Scientific Factors Companies Must Know," ACI 5th Annual Conference on Biosimilars, June 4, 2014
Speaker, "Breakfast Breakout: Career Opportunities in Food & Drug Law," 2014 FDLI Annual Conference, April 24, 2014
Guest Speaker, "Safety v. Competition (Federal Trade Commission Follow-On Biologics Workshop: Impact of Recent Legislative and Regulatory Naming Proposals on Competition February 4, 2014 Overview)," BioCentury This Week, February 16, 2014
Speaker, "Biotechnology Roundtable: Innovative Strategies for New Product Development," Montgomery County Department of Economic Development, February 5, 2014
Speaker, "FDA Regulation: The Intersection of Policy and Politics, The Opportunities and Challenges for Innovation - Perspectives from Two Former FDEA Officials," New York State Bar Association Food, Drug and Cosmetic Law Section Annual Meeting, January 30, 2014
Speaker, "Understand the FDA Report [Risk Evaluation and Mitigation Strategies ("REMS";) Standardization] and the Impact on the Industry," ExL Pharma 6th Risk Evaluation and Mitigation Strategies Summit, January 28, 2014
International

Bar & Court Admissions

District of Columbia Bar
Maryland Bar
New York Bar

Education

University of Maryland

BS

,

Biochemistry

,

2004

The George Washington University Law School

JD

,

1991

The George Washington University

BA

,

Economics

,

1988