Joshua Fowkes
Partner
Josh is a Partner in the Litigation group.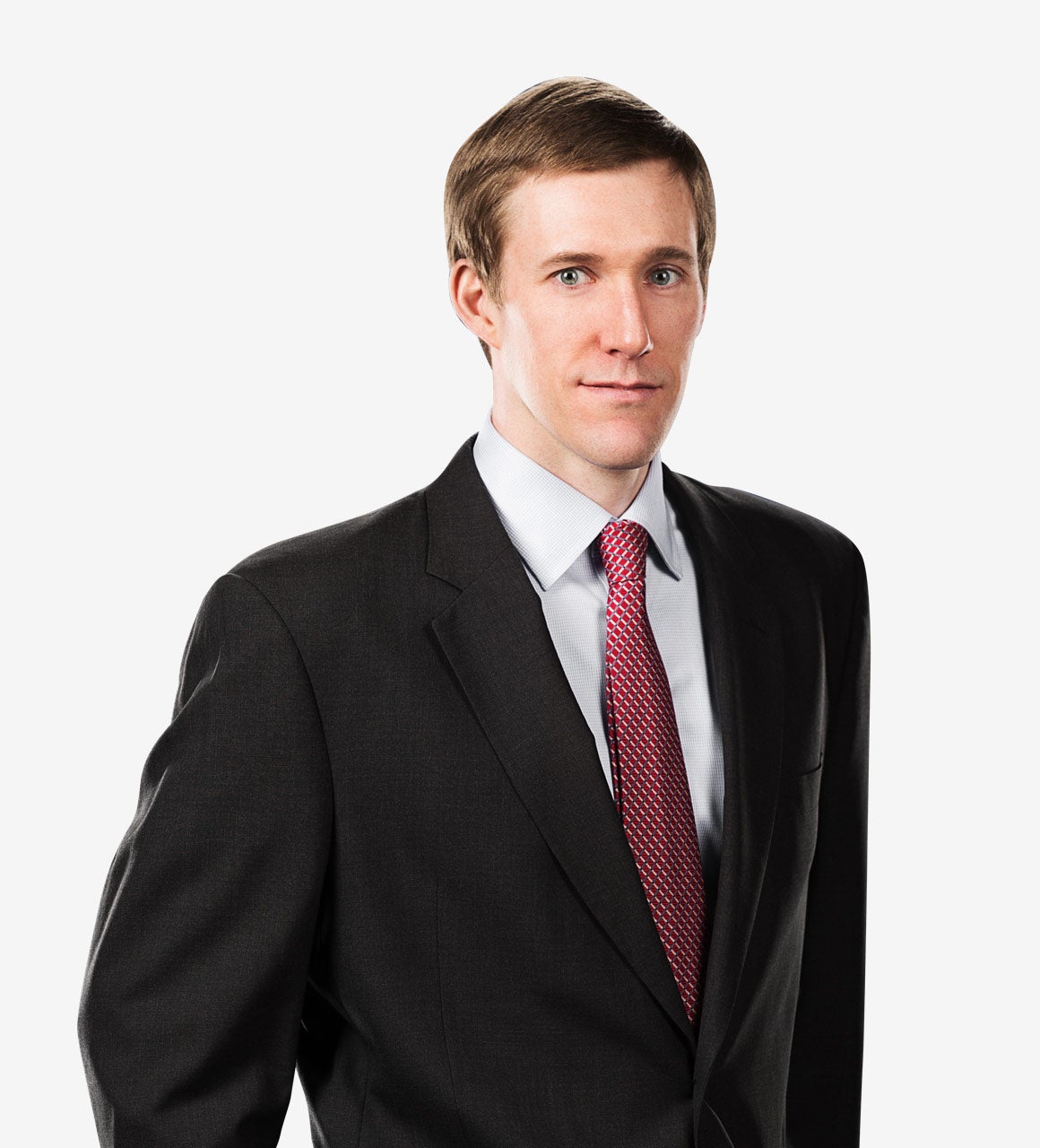 Offices

Phone

Email

Social
Josh focuses on complex commercial litigation, particularly contract actions, fraud, breach of fiduciary duties and other business torts, intra-company disputes and business divorce claims involving partnerships and LLCs, employment claims, and derivative and class action claims. Josh has represented clients across various industries, including real estate, investment banking, retail banks, private equity, health care, manufacturing, intellectual property, financial services, food and drug, and government contracting. He also represents health care providers pursuing claims under ERISA, as well as managed care claims including both in-network and out-of-network reimbursement disputes. Josh has significant experience representing foreign companies from Asia, Europe, and South America in litigation in the US, and he has lectured on conducting discovery overseas for use in US litigation. In addition to publishing articles analyzing defamation law, Josh has counseled clients about First Amendment issues, including challenges to laws that violate the First Amendment and other principles of the Constitution. Josh has also completed internal investigations on behalf of clients. As co-founder and co-chair of Arent Fox's electronic discovery taskforce, Josh has led several presentations on various electronic discovery issues and has served on the editorial board of a prominent electronic discovery publication. His knowledge in this important subject enables him to efficiently manage discovery and reduce discovery costs.
As co-founder and co-chair of Arent Fox's electronic discovery taskforce, Josh has led several presentations on various electronic discovery issues and has served on the editorial board of a prominent electronic discovery publication. His knowledge in this important subject enables him to efficiently manage discovery and reduce discovery costs.
Complex Commercial Litigation Experience
Defending telecommunications company in multiple class action lawsuits in Arkansas federal court alleging unlawful rates and fees.
Representing one of the world's largest energy companies in dispute concerning joint development agreement.
Defending foreign business and foreign citizen from RICO and conspiracy claims filed in the U.S. arising from fraudulent business transactions and exports.
Won victory in expedited trial of intra-family dispute over the final burial location of the former King of Rwanda. 
Won motion to dismiss fraud lawsuit against European public company, its CEO, and another officer in California federal court. Oat Solutions v. Rihko, 2016 WL 6602557 (C.D. Cal. Nov. 7, 2016). 
Won complete dismissal of suit for invasion of privacy, breach of contract, and negligence claims filed by former NFL player based on alleged breach of secure telephone call recordings.
Represented foreign business pursuing breach of contract and warranty claims against major airplane manufacturer arising from sale of defective new airplane.
Won complete dismissal of shareholder lawsuit against investment fund in Maryland seeking appraisal and payment of fair value of shares following announcement of proposed merger.
After obtaining stay of discovery, won dismissal of all thirteen direct and derivative claims against investment company and managing member seeking $11 million invested in Bernard Madoff Ponzi scheme. After appellate court affirmed dismissal of most claims, matter settled favorably. George Wasserman & Janice Wasserman Goldsten Family LLC v. Kay, 197 Md.App. 586 (Md. Ct. Spec. App. 2011).
As first-chair at evidentiary hearing and motions practice, won complete victory by obtaining ruling that clients, an expert economist and his consulting firm, had not violated confidentiality agreement signed during a nationwide class action suit. Sullivan v. DB Investments, Inc., 2010 WL 3429576 (D.N.J. Aug. 27, 2010).
Won complete dismissal of class action antitrust suit raised against investment fund accused of bid-rigging when acquiring public company. Pennsylvania Ave. Funds v. Borey, 569 F.Supp.2d 1126 (W.D. Wash. 2008).
Won complete dismissal of claims against technology corporation arising from license agreement; affirmed by Sixth Circuit. Mahler v. Startari, 142 Fed.Appx. 839 (6th Cir. 2005).
Defended pharmaceutical manufacturer opposing breach of contract and fiduciary duty claims arising from allegedly inflated marketing and manufacturing expenses under joint development agreement with other pharmaceutical manufacturer.
Defended pharmaceutical manufacturer in arbitration concerning claims for breach of contract and fiduciary duties arising from alleged usurpation of corporate opportunity and conversion of joint intellectual property.
Defended several companies and individuals in connection with claims raised by the Trustee for the liquidation of Bernard L. Madoff Investment Securities.
Defended LLC and managing members from claims raised by former managing member for breach of operating agreement, business torts, and trademark infringement.
Real Estate Litigation Experience
Won arbitration and confirmation of arbitration award in dispute over proper interpretation ground lease. Cathedral Ave. Coop., Inc. v. Carter, 947 A.2d 1143 (DC 2008)
Defended bank against negligent misrepresentation claims arising from real estate transaction.
Obtained favorable settlement for real estate partnership of leading global investment bank and its general partner defending challenge to sale of large real estate portfolio, including claim of right of first refusal, breach of fiduciary duty, and breach of partnership agreement.
Second-chaired two-week bench trial involving allegations of breaches of five real estate leases and escrow agreement.
Obtained favorable settlement for developer in dispute in which competitor challenged agreement to buy property for development adjacent to major league baseball stadium.
Tort Litigation Experience
Represented Japanese public company defending negligence claims arising from fire at its subsidiary's US plant.
Represented real estate developer defending unique tort claims related to alleged asbestos exposure; case settled favorably after successful evidentiary hearing.
Regularly defended public energy company in lawsuits raising various tort claims.
Employment Litigation Experience
Wrote winning brief to DC Circuit, which affirmed dismissal of contract, tort and ERISA claims related to termination. Watts v. Parking Mgmt. Inc., 210 Fed.Appx. 13, 2006 WL 3835764 (DC Cir. Dec. 22, 2006). 
Won summary judgment for company defending claims under ERISA and bad faith statute; affirmed by 5th Circuit. Bertrand v. ABI Admin. Serv. Corp., 155 Fed.Appx. 120, 2005 WL 3067827 (5th Cir. Nov. 15, 2005). 
Wrote winning brief to DC Circuit, which affirmed dismissal of discrimination claims against public company and CEO. Harris v. Wackenhut Services, Inc., 419 Fed.Appx. 1, 2011 WL 2118073 (DC Cir. May 3, 2011). 
Represented public company defending claims of unlawful termination under the False Claims Act.
Defended corporate employer and supervisors against sexual harassment claims; case settled in 2007 on favorable terms the day that the trial was scheduled to begin.
Health Care Litigation Experience
Representing a major medical provider and its affiliates in disputes with large insurers, health care networks, and group health plans around the country.
Represented radiology center in arbitration against major health care insurer for failure to reimburse for services; case settled favorably during mediation.
Obtained favorable settlement for hospital in employment and loan forgiveness dispute with its employee-physician.
Represented assisted living center defending claims for breach of contract and business torts in multiple states; cases settled for nuisance value.
Regulatory Litigation Experience
Developed constitutional challenges to statutes and regulations for companies and trade associations, including challenges based on commercial free speech rights, Commerce Clause violations, unlawful regulatory takings, and state and federal preemption.
Convinced government agency to interpret statute in client's favor, thereby averting suit challenging statute.
Publications, Presentations & Recognitions
Josh has led several presentations on various electronic discovery issues. He also previously served on the advisory board for Law360's E-Discovery publication. His speaking engagements and articles include:
"Participants' claims on behalf of ERISA plan not covered by arbitration clause" BenefitsPro, September 4, 2018
"Del. Ruling Offers Trade Secret Reminders For Startups" Law360, July 19, 2018
"Stolen Info Is Not Trade Secret If It Can Be Reverse Engineered" Bloomberg Law's Patent, Trademark & Copyright Journal, July 9, 2018
"Can Companies Sue Employees Under CFAA for Misusing Rightfully Accessed Information?" Bloomberg BNA's 

Privacy and Security Law Report

, May 2018
"Conducting Discovery Abroad for Use in US Litigation," Washington DC, 2017
"Can a Healthcare Plan Dictate Where a Medical Provider Sues It?" Becker's Hospital Review, August 2017
"Asserting Defamation Claims For Anonymous Online Reviews," Law360, July 2017 
"Target Breach Class Actions Take a Big Step Forward," Corporate Counsel, December 2014
"Yelp, Inc. v. Hadeed Carpet Cleaning," E-Commerce Law Reports, August 2014
"Using Predictive Coding in Litigation and Investigations," Washington, DC, July 2014
"Creating a Defensible E-Discovery Search Strategy That Doesn't Break the Bank," Webinar, Association of Certified E-Discovery Specialists (ACEDS), 2014
"Spoliation and Preservation of Evidence," National CLE, Vail, CO, 2014
"Baidu Ruling Reinforces Search Engine Immunity," Law360, April 2014
"Ethical Duties When Using Email," Washington, DC, 2009
"Best Practices for E-Discovery," New York, NY and Washington, DC, 2008
"Navigating the New World of E-Discovery," Washington, DC, 2008
"The Electronic Discovery Amendments to the F.R.C.P.," Washington, DC, 2006
Pro Bono Activities & Firm Leadership
Josh maintains an active pro bono practice. He has worked on a wide variety of pro bono litigation on behalf of veterans, indigent people, immigrants, and non-profit organizations. He also is a board member of the Capital Area Asset Builders. Josh also serves on the firm's Diversity and Alumni Committees.
As first chair, won trial on behalf of low-income tenant who asserted claims that landlord had violated housing code and had been unjustly enriched by rent payments.
Wrote winning appellate brief on behalf of military veteran seeking reconsideration of claims for benefits.
Won asylum for woman fleeing violence in Iraq through United Nations High Commissioner for Refugees.
Served as guardian ad litem in appellate court and subsequent proceedings alleging parental violence.
Defended nonprofit from IT vendor's threatened commercial contract claims.
Defended indigent tenant from housing authority's claims demanding eviction and past rent owed.
Defended religious community center in civil claims and related insurance coverage dispute.
Defended leading community health clinic in lawsuit concerning real property lien.
Previous Work
Josh joined Arent Fox in 2005 after working at a leading law firm in Cleveland, Ohio, where he grew up. He became partner at Arent Fox in January 2012.
International

Bar & Court Admissions

District of Columbia Bar
Ohio Bar

US Court of Appeals, District of Columbia Circuit
US Court of Appeals, 6th Circuit
US Court of Appeals, 8th Circuit
US District Court, District of Columbia
US District Court, Northern District of Ohio
US District Court, Southern District of Ohio

Education

Vanderbilt University Law School

JD

,

2002

Duke University

,

MPP

,

2002

Davidson College

BA

,

1997