Jyoti Tibrewala, Ph.D.
Patent Agent
Dr. Jyoti Tibrewala is a registered Patent Agent in the New York office, where she assists in patent prosecution and validity analyses.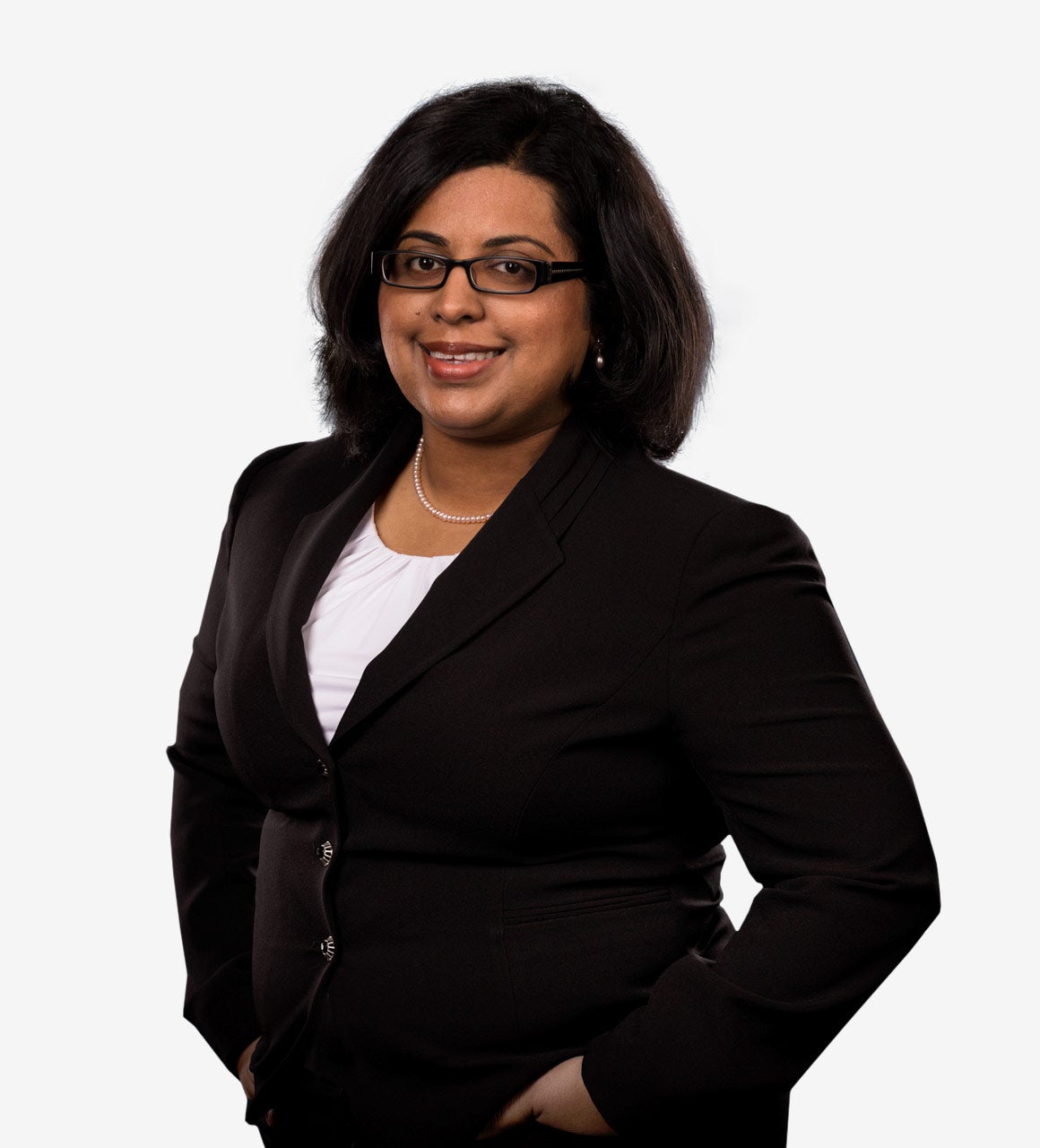 Dr. Tibrewala's technical areas of expertise include inflammatory diseases, antioxidants, chemical sensors, heme proteins, porphyrins, catalysis, inorganic chemistry, and organic chemistry. Prior to joining Arent Fox, Dr. Tibrewala worked at an intellectual property boutique in Washington, DC.
Before starting her career in intellectual property, Dr. Tibrewala was a Research Staff Member at the Institute for Defense Analyses. There, she provided analysis and review of anti-terrorism initiatives in support of the Department of Homeland Security's SAFETY Act Program, and she reviewed test and evaluation proposals for defense acquisition programs in support of the Office of the Secretary of Defense.
Dr. Tibrewala's graduate research focused on the use of synthetic metalloporphyrins as catalytic antioxidants in diseases related to oxidative stress. She worked in the areas of ligand design, optimization of synthetic methodology, and characterization of paramagnetic iron porphyrins. In graduate school, she also helped organize a campus-wide research symposium across all disciplines, to bring university research to the public.
Dr. Tibrewala was a recipient of the Merck-Patchett Fellowship, and she was also an invited speaker at the Catalysis Society of Metropolitan New York.
Technical Publications
Obrosova, I.G.; Drel, V.R.; Oltman, C.L.; Mashtalir, N.; Tibrewala, J.; Groves, J.T.; Yorek, M.A. "Role of Nitrosative Stress in Early Neuropathy and Vascular Dysfunction in Streptozotocin-Diabetic Rats," American Journal of Physiology: Endocrinology and Metabolism, 2007, 293, E1645-E1655.
Drel, V.R.; Pacher, P.; Vareniuk, I.; Pavlov, I.; Ilnytska, O.; Lyzogubov, V.V.; Tibrewala, J.; Groves, J.T.; Obrosova, I.G. "A Peroxynitrite Decomposition Catalyst Counteracts Sensory Neuropathy in Streptozotocin-Diabetic Mice." European Journal of Pharmacology, 2007, 569, 48-58.
Vareniuk, I.; Pavlov, I.A.; Drel, V.R.; Lyzogubov, V.V.; Ilnytska, O.; Bell, S.R.; Tibrewala, J.; Groves, J.T.; Obrosova, I.G. "Nitrosative Stress and Peripheral Diabetic Neuropathy in Leptin-Deficient (ob/ob) Mice." Experimental Neurology, 2007, 205, 425-436.
Clark, M.A.; Duffy, K.; Tibrewala, J.; Lippard, S.J. "Synthesis and Metal-Binding Properties of Chelating Fluorescein Derivatives." Organic Letters, 2003, 5, 2051-2054.
Miller, L.M.; Tibrewala, J.; Carlson, C.S. "Examination of Bone Chemical Composition in Osteoporosis Using Fluorescence-Assisted Infrared Microspectroscopy." Cellular and Molecular Biology, 2000, 46, 1035-1044.
Bar & Court Admissions

US Patent and Trademark Office Bar

Education

Princeton University

PhD

Chemistry

2010

Princeton University

MA

Chemistry

2006

Massachusetts Institute of Technology

SB

Chemistry

2004