Teresa M. Polino
Partner
Terry Polino is a Partner in the firm's International Trade group.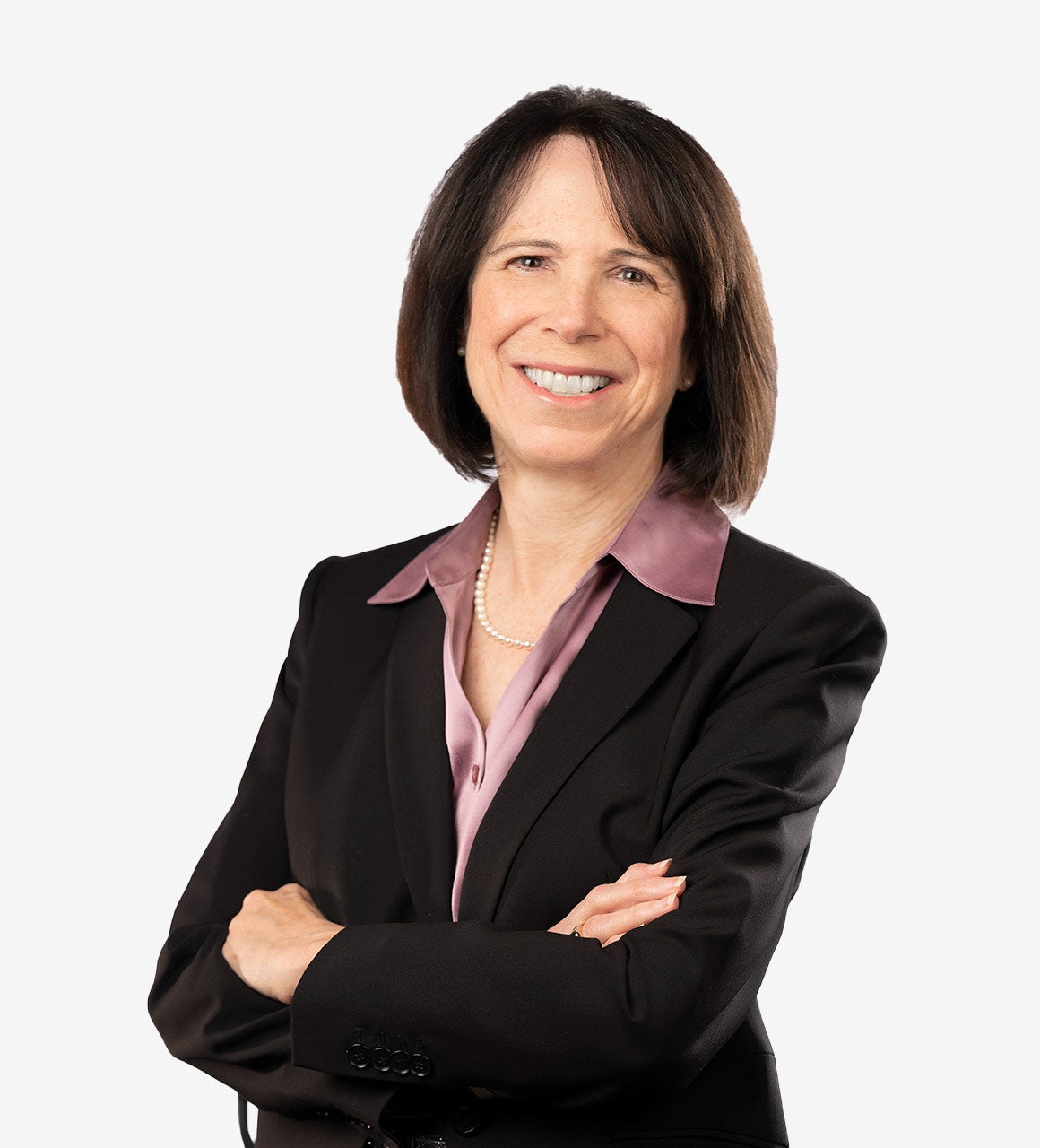 Terry's practice focuses on all aspects of import compliance, including both customs issues and Participating Government Agency (PGA) import requirements, as well as "Made in the USA" and other Federal Trade Commission (FTC) labeling requirements. Terry provides advice and guidance on trade policy issues involving duties and quotas and other import restrictions.
Terry is a frequent speaker at industry, trade association, and corporate events.
Client Work
Terry is particularly experienced in the requirements relating to various import programs, such as utilization of the various import preference programs, valuation classification country of origin marking and labeling, and supply chain security requirements. Her work in these areas has included:
Successfully guiding Mexican and Canadian companies through US Customs and Border Protection (CBP) NAFTA verifications, as well as assisting US companies with Canadian NAFTA verifications.

Obtaining favorable CBP rulings and determinations, including penalty mitigation decisions, on valuation, origin, drawback, classification, preference programs, for various clients in diverse industries such as textiles and apparel, metals, oil and gas, and medical devices.

Assisting clients in the development and implementation of their import compliance policies and procedures.
She has worked on issues relating to imports and other government agency requirements such as FTC, FDA, and F&WS, USDA, and government contract issues involving TAA origin requirements. This works includes:
Determining whether PGA requirements apply to certain imports, and if so, exactly what those requirements entail, and helping to comply with the requirements, e.g., obtaining import permits or licenses where required.

Preparing requests to obtain opinions from the FTC regarding certain "Made in the USA" labels.

Providing opinions regarding the origin of products for TAA purposes in order to respond to a Department of Justice subpoena relating to a False Claims Act allegation.
Finally, Terry has worked with clients on trade policy and import sanctions matters. This work has included:
Advising clients on proposed trade policy actions, and the effect such actions would have on their businesses, e.g., Section 232 duties on steel and aluminum and Section 301 duties against certain China products. 

Assisting clients who wanted to participate in the comment processes relating to trade policy actions, including the preparation and submission of comments and hearing statements.

Developing proposals to change the rules of origin for both NAFTA and CAFTA for certain products of concern to specific clients, e.g., certain tariff preference level rules for textiles and apparel and certain energy product rules.
Previous Work
Prior to entering private practice, Terry served as senior attorney in the General Counsel's Office at the US Department of the Treasury where she concentrated on customs and international trade matters. She began her career in the Office of Regulations and Rulings of the US Customs Service (CBP's predecessor agency) and also served as an attorney-advisor in the Office of the Chief Counsel, US Customs Service. Terry received her J.D. from Georgetown University Law Center and her B.A. in Economics (magna cum laude) from the State University of New York at Plattsburgh.
Professional Activities
Terry is affiliated with the following organizations:
Customs Law Committee, International Law Section, American Bar Association – Former Senior Advisor, Chair and Vice-Chair

Customs and International Trade Bar Association – Former Chair, Publications Committee and Member, Board of Directors

Women in International Trade – Founding Member and former Member, Board of Directors

International Compliance Professionals Association – frequent conference speaker

American Association of Exporters and Importers – Current member of the Industry Leadership Council and Chair, Membership Services Committee

I.E. Canada – Current Co-Chair of the Oil, Mining and Gas Committee and  of the OMGNAFTA Working Group
Publications, Presentations & Recognitions
Terry's publications include:
New Analysis: CBP Takes First Step Towards Full USMCA Implementation (April 23, 2020)
End-of-Summer Section 301 China Tariffs Roundup: New Tariffs, New Deadlines, New Uncertainty (September 5, 2019)
China Section 301 List 3 Exclusion Process to Commence June 30, 2019 (June 21, 2019
China Section 301 List 3 Developments: An Increase to 25 Percent and Possibly an Exclusion Process – And Then a List 4? (May 7, 2019)
Section 301 Update: The Trade War Continues, But End May Be In Sight (April 8, 2019

CBP Issues Instructions for Steel and Aluminum Products Granted Section 232 Exclusions (May 22, 2018)

Section 232 Adjustments on US Steel and Aluminum Imports (May 16, 2018)

Government Ramps Up Enforcement of North Korean Forced Labor Provisions (April 30, 2018)

Government Ramps Up Enforcement of North Korean Forced Labor Provisions (April 18, 2018)

USTR Publishes List of Products Subject to Section 301 Tariffs (April 4, 2018)

President Trump Announces Tariff Regime for Steel & Aluminum (March 9, 2018)

Steel and Aluminum Sec. 232 Determinations: Boardroom Angst (March 2, 2018)

US Importers, Managing Director, and Wholesale Customer Face Monetary Damages in Two Recently Unsealed False Claims Act Cases  (September 27, 2016)

Importers Beware: CBP Implements Interim Regulations For AD/CVD Duty Evasion Proceedings Effective Immediately (August 23, 2016)

Aggressive Enforcement of Customs Laws Could Catch Unwary Importers (August 8, 2016)

CBP Turns Up the Heat, Moves Forward With Increased Audits and Enforcement Actions (August 4, 2016)

Clothing Companies Spin a Yarn with Commercial Invoices, Resulting in $13.4 Million in Fines for Customs Violations (July 21, 2016)

C'est Toi Jeans USA - a Trademark or a Country of Origin Reference? (April 28, 2016)

Checklists of Foreign Countries Subject to Sanctions (updated March 10, 2015)

Co-author: "Trade Compliance Handbook" (updated March 3, 2015)

"Regulatory Considerations for International Business," International CPA (September 12, 2014)

"International Trade Compliance: 6 Basic Products Questions A Company Should Answer," Corporate Compliance Insights (October 2011)

"Customs Law," The International Lawyer (August 1, 2008)

"GAO And COFC Reach Opposite Conclusions In Determining Product Origin Under The TAA," The Government Contractor (July, 9, 2008)

"GAO And COFC Reach Opposite Conclusions In Determining Product Origin Under The TAA," International Government Contractor (June 1, 2008)
Terry's speaking engagements include:
"Section 301 List 3 Exclusion Process," USFIA Webinar (August 13, 2019)

"Customs / Regulatory Updates," The Coalition of New England Companies for Trade's (CONECT) 23rd Annual Northeast Trade & Transportation (T & T) Conference (April 9 - 11, 2019)
"A Simple Five Step Free Trade Agreement Qualification Process," The International Compliance Professionals Association's (ICPA) Annual Conference (March 24 - 27, 2019)
"How to Fight the Trade War: The Exclusion Process," The United States Fashion Industry Association (October 2, 2018)
"President Trump's Trade Agenda," Plumbing Manufacturers International (June 13, 2018)

"Navigating Your Business Through Conflicting Regulations," American Association of Exporters and Importers (June 17, 2014)

"Customs I: Year in Review in Customs" 25th Anniversary Georgetown University International Trade Update (February 28, 2014)

"Dealing with Regulatory and Legal Changes," Canadian Associations of Exporters and Importers (October 23, 2013)

"Deciphering Country of Origin Rules: How to Make the Correct Origin Determination, and Prove It" ACI US Customs Compliance Boot Camp/Washington, D.C. (November 27, 2012)

"Workshop on Establishing and Maintaining Export-Import Internal Controls," International Compliance Professionals Association Annual Conference (March 22, 2012)

"Country of Origin: General Overview," Orthopedic Surgical Manufacturers Association (January 27, 2012)

"NAFTA - How to Use it Without Getting Caught in its Speed Trap," Global Supply Chain Management Conference (May 26, 2011)

"How to Hit a Homerun by Establishing and Maintaining Export-Import Internal Controls," International Compliance Professionals Association Annual Conference (March 24, 2011)

"Rethinking NAFTA Certification of Canadian Heavy Crude - The Path Forward" November 23, 2010)

"Strategies and Best Practices in Trade," Global Supply Chain Management Conference (June 17, 2010)

"Navigating the New Parameters of CBP Trade Enforcement and Facilitation," Customs Lawyers Association (June 10, 2010)

"US Compliance and Customs Audits," Canadian Association of Importers and Exporters Conference (May 25, 2009)

"Trade Issues in Mergers and Acquisitions" (May 5, 2015)

"US Compliance and Customs Audits," Canadian Association of Importers and Exporters Conference (May 25, 2009)
Terry's honors and recognitions include:
Listed in "Best Lawyers in America®" (2016 - 2018)

Who's Who Legal: Trade & Customs (2014-2017)

The International Who's Who of Business Lawyers (2011-2013)

Guide to the World's Leading International Trade Lawyers (2008)
Bar & Court Admissions

US Court of International Trade
US Court of Appeals, Federal Circuit

Education

The State University of New York, Plattsburgh

BA

,

magna cum laude

,

1974