Chambers USA Selects Arent Fox's Intellectual Property Practice as Number One in the US for Client Service
Arent Fox's Intellectual Property Practice Wins Top Rankings in 2012 Chambers USA Nationally, in New York, and in Washington, DC

JUNE 13, 2012 — Arent Fox's Intellectual Property practice, including patent, copyright, and trademark, has won the 2012 Chambers USA Award for Excellence in Client Service.
The award is based on research conducted for the 2012 edition of Chambers USA: America's Leading Lawyers for Business and reflects a law firm's preeminence in key practice areas. The Chambers USA Awards for Excellence also reflect notable achievements over the past 12 months including outstanding work, impressive strategic growth, and excellence in client service.
Said one client quoted by Chambers USA, "They're incredibly responsive and have given us invaluable support."
The award was presented Thursday, June 7, 2012, in New York City at Cipriani 42nd Street.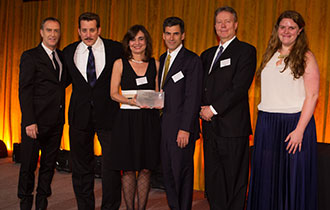 Left to right: Host Clive Coleman, Tony Lupo, Cristina Carvalho,
Wib Chesser, Mike Grow, and Laura Mills, Editor, Chambers USA.
Additionally, the firm's Intellectual Property: Trademark, Copyright & Trade Secrets practice, both nationally and in Washington, DC, has been recognized in the 2012 edition of Chambers USA, one of the premier directories in the legal profession. The Washington, DC, practice received a Band 1 ranking from Chambers USA. Arent Fox is one of only four law firms in the nation's capital to achieve a Band 1 ranking for its Intellectual Property: Trademark, Copyright & Trade Secrets Practice. "This excellent national firm offers full-service, coast-to-coast IP expertise. Coupled with a substantial patent litigation offering, the group is well known for work across trademarks, copyright, and advertising law," Chambers writes.
"This team offers assistance across the full range of IP matters although it is particularly well regarded for its noncontentious work. The group's clients include companies throughout the technology, fashion, and media and entertainment industries; it acts as primary trademark and copyright counsel to big-ticket names such as Mars, Discovery Communications, Pixar, Lacoste, Diesel, and Benetton. It also handles brand protection for major brands such as Harry Potter, Roadrunner, Yogi Bear, Flintstones, and Scooby Doo, while on the patents front clients include Par Pharmaceutical, Qualcomm, and Cardinal Health," writes Chambers USA.
"Rather than say no, they find solutions," said one source quoted by Chambers when asked about Arent Fox's IP group.
Chambers USA also recognized Michael Grow, who "focuses on trademark and copyright litigation together with foreign and domestic trademark protection, unfair competition, advertising and e-commerce law. The Saul Zaentz Company is one major client; he handles the company's worldwide protection and licensing of its extensive trademark portfolio, which includes the Lord of the Rings characters. Clients are quick to praise him as 'practical, thorough and always available.'"
"The highly rated Anthony Lupo cochairs the IP practice and provides counseling to numerous well-known brand owners such as Pixar and Disney. He also regularly advises clients such as LG Electronics on trademark and copyright issues," writes Chambers USA. "He is one of the 'go to' intellectual property lawyers on the East Coast."
Published annually by London-based Chambers and Partners, Chambers USA is widely recognized for its objective, interview-based research and ranking system of attorneys and practice areas. Editors and researchers speak to a vast range of lawyers and clients before making their final decisions on which attorneys and practice groups to include in this prestigious legal guide. Greater weighting is given to the views of the clients. All interviews are conducted purely for research purposes and are entirely confidential. Accordingly, this year's directory and the firm's high rankings are a powerful testament to Arent Fox's commitment to superior client service and legal excellence.